Picote Solutions
Reinstatement & Drain Cleaning Equipment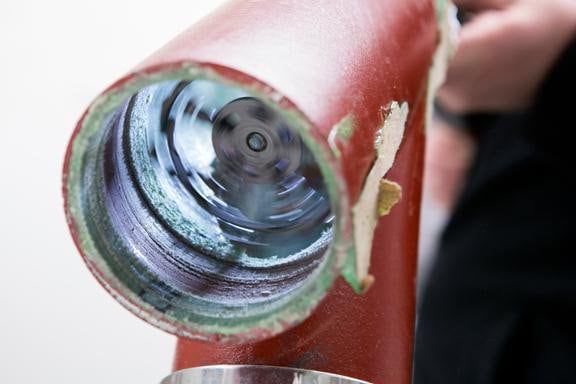 S1E's reinstatement tools offer customers unique lateral cutters and drain cleaning equipment to break through the toughest pipe materials and obstructions. Our tools are made of the highest quality of stainless steel or carbide and offer a cost-effective solution that allows contractors to use the equipment over and over again. The exceptional design which gives our tools a long lifespan and durability to withstand extreme conditions. With the ability to open and clean pipe branches quickly, the tools do not harm the original diameter of the pipe. The tools work great to clean lines and is a necessity for trenchless customers when preparing lines for repair, as well as correcting and repairing faulty trenchless installations S1E offers overshot pipe cutters, collapsed line drills, and a full line of cutters, chain knockers and brushes, as well as three mechanical machines to open and clean pipe branches quickly.
Benefits
Ideal for pipe cutting, cleaning and renovations
Stainless steel or carbide materials available
High-quality, durable materials
Tools designed to match common pipe sizes
Suitable for most pipe materials up to 10"
Cleans without damaging the pipe
Additional mechanical parts are not needed

---
Chain Knockers
Effectively cleans rust and dirt from pipe
Depending on the size of the tool, our chain knockers have one to three chains with solid inserts brazed on the chain links. These inserts make our tools so unique and effective that rust and dirt are effortlessly cleaned out of the pipe. Chain knockers are designed to match the pipe diameter. With the correct size, the tools clean gently without harming the pipe surface. Includes circular chain knockers in stainless steel material.

---
Brushes
Versatile cleaning tools
Brushes are excellent, versatile tools to gently clean pipe without harming the surface. Our brushes are ideal for cleaning and grinding plastic pipe, and for spreading paste in plastic and cast iron pipe. Both nylon and nylon/steel string materail available.

---
Cutters
Effortlessly cut through pipe
Cutters are used in many different application in the relining process and are ideal for opening up a lateral before a repair. Includes collapse line drills and overshot pipe cutters.

---
Lateral Cutters
Centralize cutting and cleaning tools
Centering axles are used to centralize our cutting and cleaning tools to ensure the best results. The axles include a high-quality, interior ball-bearing for superior rotation.

---
Adapters & Accessories
Easily connect equipment
Our adapters and accessories fit all S1E pipe cutting and cleaning tools.

---
Drain Cleaning Accessories
Increase efficiency with faster equipment
The drain cleaning accessories are engineered to help exisiting lining equipment perform for efficiently during and installation. Accessories are also ideal for cleaning pipelines.

---
Cables
Ready-to-use cable assembly
The ready-to-use cable assemblies includes a cover, ball bearing and t-slide adapters. The TC series is a cross layer cable and the TS is a spring layer cable.

---
Mechanical Machines
The force for all your S1E reinstatement & drain cleaning equipment
S1E offers three mechanical machines to operate all of the reinstatement and cleaning equipment. The Maxi Miller, The Midi Miller, and the Mini Miller. Picote Milling Machines are designed with safety and efficiency in mind, to work with a comprehensive range of tools for small diameter drain renovation from 1 1/4" - 10" pipes.