Small Inflatable Sealing Pipe Plugs from 1" to 12", 36 PSI
Small Inflatable Sealing Pipe Plugs from 1" to 12", 36 PSI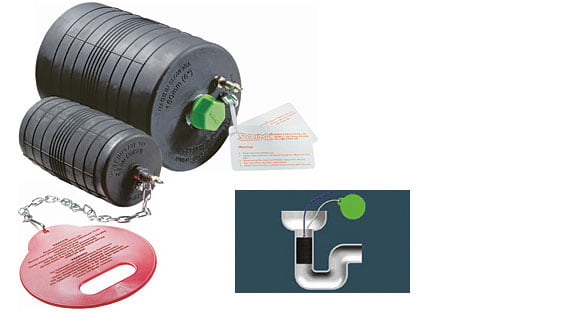 Ideal for testing of plumbing systems in residential and commercial buildings.
PLUGY sealing plugs are used in sewer pipes to stop flow, or as rear plugs when performing air test. In the rubber part of PLUGSY plugs vulcanized threaded aluminum pipe is installed to enable flow of sewage through the plug. They are also used as front plugs when performing line acceptance testing with air. All plugs are made of natural and synthetic rubber compound noted for good non-skid and compression abilities. Since plugs are not reinforced with cord they exhibit excellent stretching and sealing characteristics. They are made of anti-corrosive materials.
Sealing plugs PLUGY and PLUGSY up to size 7.875" are equipped with TR-15 Schrader tire inflation valve, which is vulcanized into the plug. A chain fixed to the valve stem and a pear-shaped handle for easier carrying and lowering of a plug can also be of help in preventing slipping of a plug along the pipe.
Plugs of other sizes are equipped with an inflation valve, which is easily replaced with a quick action coupling, if required. Eyelet bolts enable lifting and lowering of plugs when a poly-lift line is used.