Lateral Lining System
Lateral Lining System
S1E offers CIPP lateral lining consumbles for trenchless sewer rehabilitation for 2"-8" pipe. The inversion prcoess utilizes a felt liner with an epoxy resin to provide a jointless repair, allowing installers to rehabilitate just a small portion of pipe or a run up to 450'. Our materials can be cured with ambient temperatures or hot water. When complete, the lining system rehabilitates the entire liner and creates a structural barrier against exterior elements--all without the need for an excavation.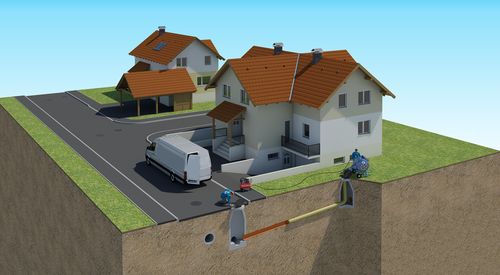 S1E offers three liner types: Brawoliner, Flex liner and PVC liner. All liners are suitable for trenchless pipe relining and are able to be cured with ambient temperatures or hot water The Brawoliner is our most versatile liner offered, allowing it to be ideal for most applications. With a premium liner that is woven and seamless, Brawoliner is top-line for installations with 45° and 90° bends. The Flex liner is a more economical choice for installations with 45°bends, 90° bends and/or single diameter transitions. S1E's PVC Liner includes a 3mm wall thickness and is an economical choice for installations without bends or transitions. Our liner systems are ideal for a lateral line that has multiple issues and cannot be rehabilitated with a spot repair solution.

---
S1E's Calibration Tube comes in a beige color and is 328 ft. long. The product's material is a PVC-based tubular film and offers flexibility up to 90° bends. The S1E Calibration Tube is compatible with all resin and liner types.

---
S1E's fast-curing and standard epoxy resin systems are compatible with steam, hot water and ambient cure. Ideal for relining small pipes, down pipes and connections, these resins offer versatility for rehabilitation applications that require a lining system. Both systems offer safe and easy handling throughout the installation. The fast-curing resin has a 60-minute pot life and the standard resin has a 120-minute pot life.